The Idea Behind Our Freshly Launched Talent Acquisition Business & How We Got Here With My Partner Saara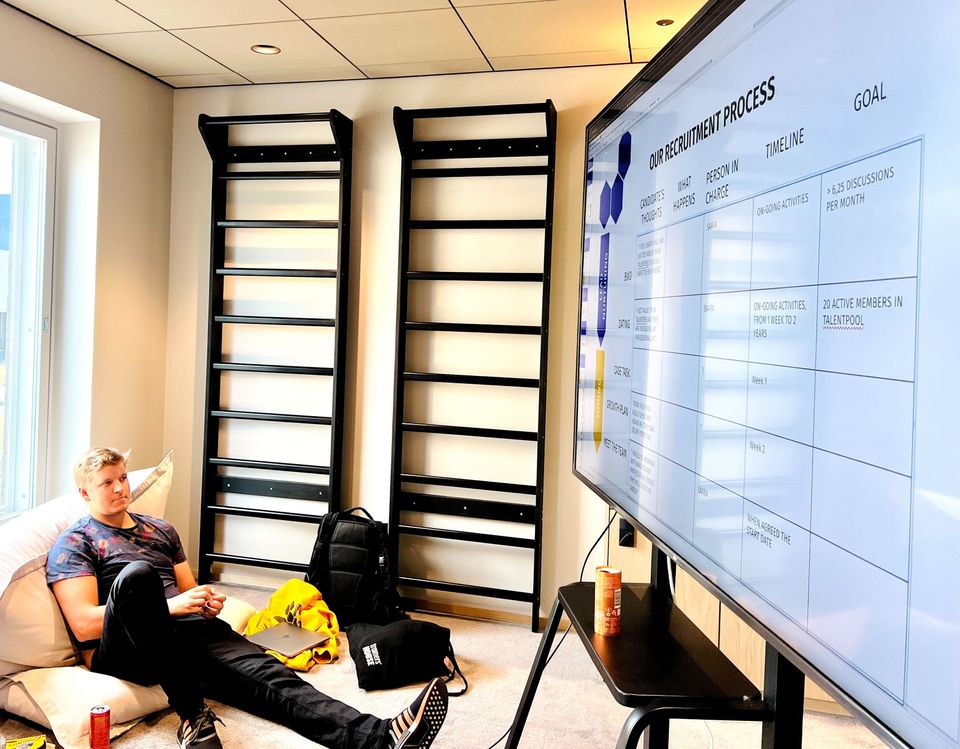 It was the 6th of December in 2021 when we sat down with my partner Saara on our rooftop terrace in Mauritius, grabbed pen and paper, and started drafting a business plan. Founding my own business has been my dream forever.
Since we started dating, we had already many times drifted into discussing the many similarities between recruitment (she works there) & sales (my expertise).
This time it happened naturally, too.
Combining the recruitment and sales processes in some way felt like an idea that should guide our intentions to start our own business. We didn't know yet how.
Passion for Solving the Problems of Fast-Growing SaaS Businesses
Another thing I felt natural, was working with SaaS businesses changing the world one idea at a time.
These loose ideas started to link up, as I had worked & talked with many SaaS companies, and they were always having challenges on where to find the best talent.
Saara, on the other hand, used to work as Talent Acquisition Lead in a SaaS company called Sellforte and was having the same struggles. The dots started to come together.
"Many SaaS founders I had talked with were having similar sounding challenges on where to find the best talent."
Based on our thoughts & discussions with a lot of SaaS founders, we were sure this would be a big enough problem to solve.
We decided that we are launching a talent acquisition agency to help SaaS companies to make sure they find the right people for their growth.

The Best Possible Workplace for Talent Professionals
We wrote down a few things that we wanted from our business on paper on that day. Here are the main points:
We want to create the Best Possible Workplace for Talent Professionals.
We want to be the number one partner for SaaS companies when they want to make their talent acquisition a true competitive advantage.
Project business is shit, and we want to be a strategic, long term partner to our customers.
On that day, we decided to start working on the idea. We set a goal to have our first version of the business plan ready by the end of the year.

"We set a goal to have our first version of the business plan ready by the end of the year. "

The big decision: are we so sure that we will resign from our well-paying jobs?
In December, we had a lot to do. We worked all the weekends & most nights on our business plan. We remember the enthusiasm beginning to grow moment by moment.
We worked on the following things:
What kind of goals would we have for our business
Name ideas for our business
Timeline on launching the business & when we resign from work
Why are we doing what we are doing?
The problem we are solving
SaaS market & is the market big enough
Competition and what others are doing
Our services & how we help our customers
Our team
Sales & marketing = where we get our first customers
Financial plan
On the 26th of December, we had a remote coffee with two of our friends working in the same field and presented our business plan to them. We talked for hours and got a lot of feedback to work on.
"Damn, I was scared and nervous to share the news with the CEO & COO at Advance B2B, that I was going to resign from my job as their Head of Sales."
Then it was time for the decision. Are we so sure that we will resign from our well-paying jobs?
The answer was not easy. I knew that I had become an important part of the management team and it was also coming as a surprise to them.
I still remember the discussion with the CEO & COO of Advance B2B when I shared the news that I had decided to leave. Damn, I was scared and nervous.
We Decided to Launch in August – Around Six Months to Prepare Everything
With Saara, we wanted to ensure that we would be in a great situation when starting the business in August. Everything needed to be well planned.
"What was also well planned, was my exit from my role as Head of Sales."
And by the way, I got all the support from our CEO & COO at Advance B2B. What was then also well planned, was my exit from my role as Head of Sales. It felt good to make this big a move in a controlled and meaningful way.
With Saara, we both continued to work in our current workplaces for the next six months. We didn't know much about what it takes to launch a business, but talking with other founders helped us with this.
So, What was the First Thing we Worked on During the Spring to Make Sure That we Would be Launch-ready in August?
Most companies start from their product or the problem they are solving, and we decided to start with people. Our vision was to build the best possible workplace for Talent Professionals, so we decided to do research. We started interviewing people matching our ideal talent profile and asking them what that kind of workplace looked like.
After making a list of 20 people we wanted to talk to, luckily almost everyone wanted to help us.
We asked the following questions from every one of the Talent Professionals we interviewed:

What would the best possible workplace look like?
What are the top 3 most important things to you in your work?
If you could outsource anything in your job, what would it be?
Is there any company you would like to join? If yes, why?
Is there any recruitment agency you would like to join? If yes, why?
What kind of salary model would you like to have?
Would you be motivated about ownership of the company?
What should we do to increase the value of Talent Acquisition work?
What would make you change your workplace?
If you would join us, who would be the first hire you would make?
By the way, now that we have launched, we continue to talk with Talent Acquisition Professionals to understand what their desired workplace would look like. If you are a Talent Acquisition Professional and have 30 minutes, let's grab a remote coffee. I would love to hear your thoughts on those topics!
Next Up: Understanding our dream customers
Before thinking about our services, we wanted to talk to potential clients, too, and ensure we understood their world as well as we could.
First, we did the first version of our Ideal Customer Profile, found around 15 companies that fit it, and asked for a chat. For our luck, SaaS startup people seem to love to help new entrepreneurs, so it was surprisingly easy to get time from people's calendars.
Here's what we asked the SaaS Founders or Talent Acquisition Leads:

Their role in the company
How are they measuring their success?
What are their biggest challenges regarding talent acquisition?
How are they making talent acquisitions now?
If they needed a partner, where would they find one?
How would they evaluate when choosing a partner?
What is good with their current partner?
What could be better?
Who else should we talk with?
This gave us a pretty good understanding of the market and its problems. Customer research will, of course, continue all the time. If you want to learn more about doing customer research, I recommend reading this great article by Advance B2B.
Helping Pilot Customers With Recruiting to Tech Roles
We wanted to test our solution in real life, and have a few pilot customers. Mainly for three reasons:
Get feedback about our way of working
Get some excellent references for when we launch
Get some potential customers when we launch. It's easier to sell when you have shown your value already.
We reached out to a few interesting SaaS companies and got the pilot customers we dreamed of. We did a few free projects, some of which also paid us money. Here's what they thought about working with us:
"At Swarmia we build a tool that help engineering teams to accelerate their growth. We raised Seed funding round of 8m€ and needed support on tech-recruitments and choose Talentbee to help us in these. They had clear process for profile definition and in the end it was really worth it. The list of potential candidates I got was a spot on. We have done most of our recruitments in-house so it was nice that someone was leading the process and saved time from me as a founder. " - Otto Hilska, Founder & CEO, Swarmia.
"We had just raised our 7,2 m€ seed round of funding and needed help with our recruitments. We worked together with Talentbee and we were extremely satisfied with the cooperation. We especially valued their understanding of SaaS businesses & their ability to challenge us in more technical roles in our DevOps team." - Kai Virkki, CTO & Co-Founder,  ONEiO.
"Talentbee's understanding of SaaS business & focus on finding only SaaS talent helped us a lot during our cooperation. They really helped & challenged  us to define the needed profile for our marketing team. The partnership was managed well & we are happy with the end results." - Mikko Merikanto, COO, GBuilder
But What About Our Funding – Do We Need Some Money?

Then the question many people dreaming of entrepreneurship worry about: launching a business requires money.
Our business is a service business, so cash flow should be relatively easy to get quickly on the right level. We would still need some cash to make sure we can invest in work equipment, hire people, and buy the necessary software.
Luckily, already pretty young, I knew that someday I would launch a business & might need some cash. I started to invest in real estate at the age of 21.
Now was the time to sell one of my real estates and make some cash savings. By doing this, I got 80 000 € of cash in my bank account that I could invest in the business if needed.
"The goal is that I don't need to use any of the money, but it's there if needed."
I Had to Accept that we Wouldn't Find a Third Co-Founder – But Look What Happened
We wished to find a third Co-Founder, but it was harder than I thought.
We were two people with Saara, but we wanted to have a third one. There were a few reasons for that:
Being a couple and running a company is hard. Finding someone to balance us will help a lot.
Skills: We were missing some crucial skills from our team to offer the best possible experience for our customers.
Here's how it went.
Fail number 1: We had long discussions with one potential founder and had worked on things together for a while already. Eventually, she decided that this wasn't the right time for her.
Fail number 2: After the first time didn't work out, we found another potential Co-Founder. We had a lot of discussions and also started to work together. However, money was too big a risk for him at this stage.
Even though these discussions took a lot of time, I'm happy they happened. We learned a lot in these. No drama in either of them and we are still friends with both of them.
I accepted that we wouldn't find a third co-founder for us.
"We needed someone who could do Employer Branding, and Siiri had a lot of experience in that. We offered her one third of the business."
Finally, there was surprise success. We noticed that a person called Siiri had just resigned from Finland's leading Employer Branding agency, Emine and thought she might be a great employee for us.
We needed someone who could do employer branding, and she had a lot of experience in that. We contacted her to ask if she would be interested in working for us.
She went through the recruitment process, and we loved her. While working on the job offer for her, we thought that we should offer her a role as co-founder.
I still remember Siiri's face when we offered Siiri the option to join us as a Co-Founder. She was taken by quite a surprise!
Even though we had worked on our business idea already for six months, we offered Siiri one third of the business. I think it's the only way to ensure we are all equal.
"This is where the fun begins."
This was June, and we had only a few days before the summer holidays. Siiri was ready to take on, in her own words, a wonderful but somewhat terrifying challenge that would await after the summer vacation.
We set up the starting day in August. Did some planning. Had a proper summer holiday. No work. Five weeks in Mauritius. That's it. That's how we got here. This is where the fun begins.
Want to join as an employee or a customer? Send me a message at samuli@talentbee.io