My step-by-step guide on producing videos on LinkedIn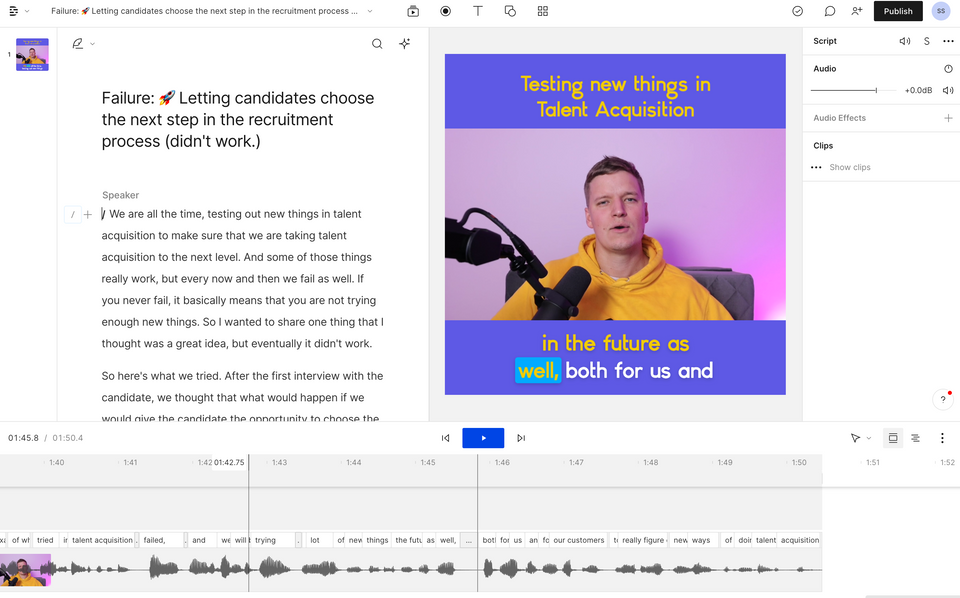 I decided to start posting videos on LinkedIn.
I have done LinkedIn Live's before and shared some clips from my podcast to LinkedIn, but now I decided to start filming short clips to hear.
The main reason: I think it's one of the best ways of building a brand, and there aren't that many people doing it.
Here's my step-by-step guide on how I got started and created the first 23 videos.
My motto is "better done than perfect," so I try to find the balance to make well enough videos without wasting too much time on them.
Coming up with the topics
Coming up with topics was a quite straight forward process. I went through LinkedIn posts from me & my colleagues and from the past few months and chose the ones with the best traction. I assume that these are topics that people are interested in (at least based on data.)
From there, I wrote down the topics for the videos in Google Docs: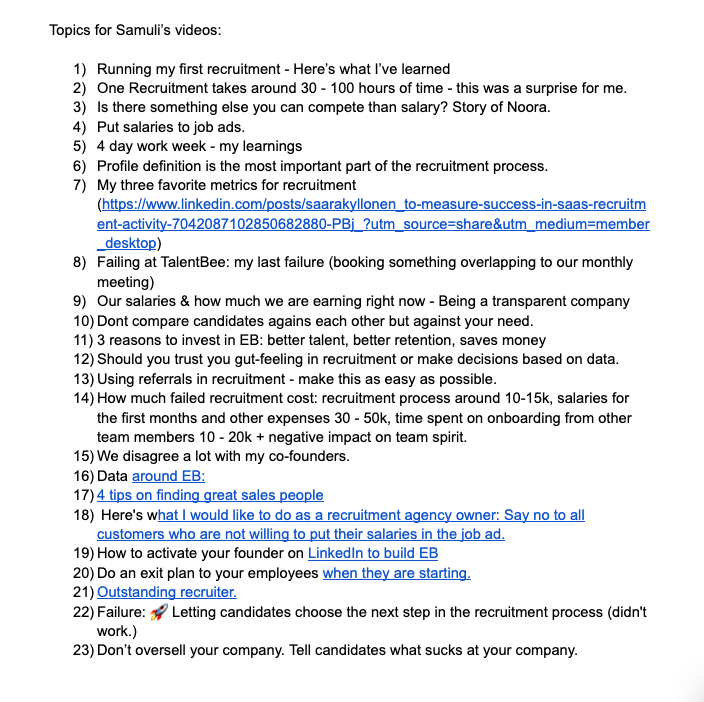 As you can see, they are not super detailed, and I won't be scripting the videos any more than that. I have done quite many videos, so it's quite easy for me to put the camera rolling & talking for 1-3 minutes for each video without more preparation
That is a skill you can learn. I still remember the times when I was working at Trainers' House and filming my first videos. It was always 5 - 10 takes, but nowadays, I do all of my videos on one take. To be honest, I don't care if I stumble on my words etc. That's real, and happy to share that side of me as well.
Setting up the studio & editing software
I have a studio at home for filming. If you are interested in my exact setup, here are the things I've got:
Camera: Canon EOS 90D
Microfone: SM7B Dynamic  
Main lights: 2x Elgato Key Light
Color lights: 2x Godox TL30 RGBW light
Amplifier: Rode RodeCaster Pro II
Stand for microphone: Elgato Wave Mic Arm High Rise
Using lights etc.: Elgato Stream Deck Mini
I have started testing a tool called Descript for filming & editing my films, and so far, it's been working great.
It's easy to get an auto transcript of the video with subtitles & make simple edits for the video.
Filming the videos & editing
I first film all of the videos as a patch.
Filming these 23 videos took me around 1 hour.
After that, it's time for some basic editing. I do the following:
1) Cut the videos from beginning & end.
2) Add subtitles to videos
3) Add headings to videos
4) I might add some small graphics or pictures to the video
I don't want to spend too much time on video editing, so I try to keep it around 10 - 15 minutes per episode. The first episodes took a bit longer because I was still learning to use Descript.
Hopefully, we soon have a marketing person who could help with these so we can push even higher volumes of videos out + take the quality to the next level.  
So here are the videos in a list after filming them: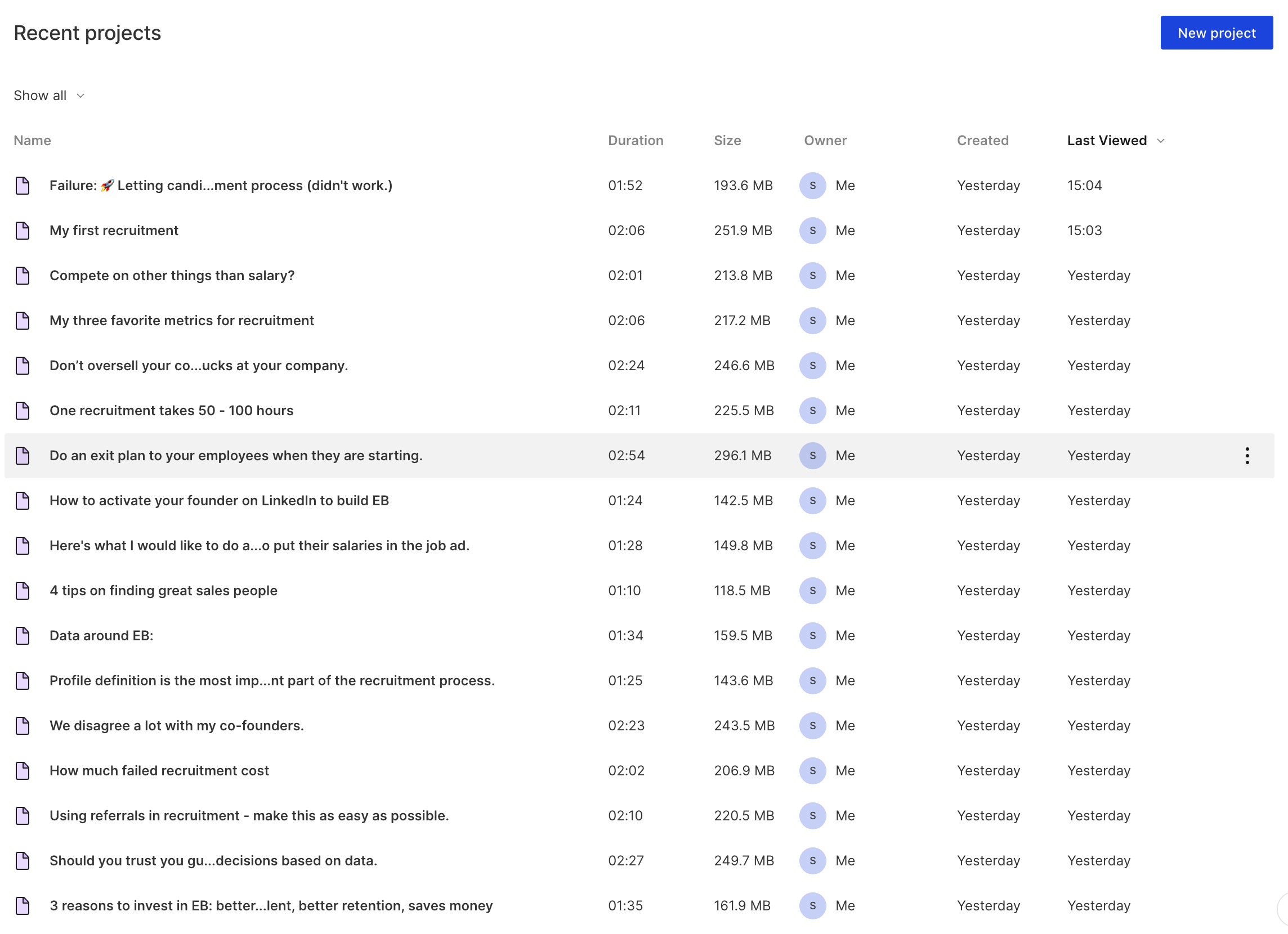 For the editing:
1) It adds automatic subtitles (typically, you need to fix around 5 - 10 words)
2) I add my template with our fonts & colors etc.
And here's what it looks like: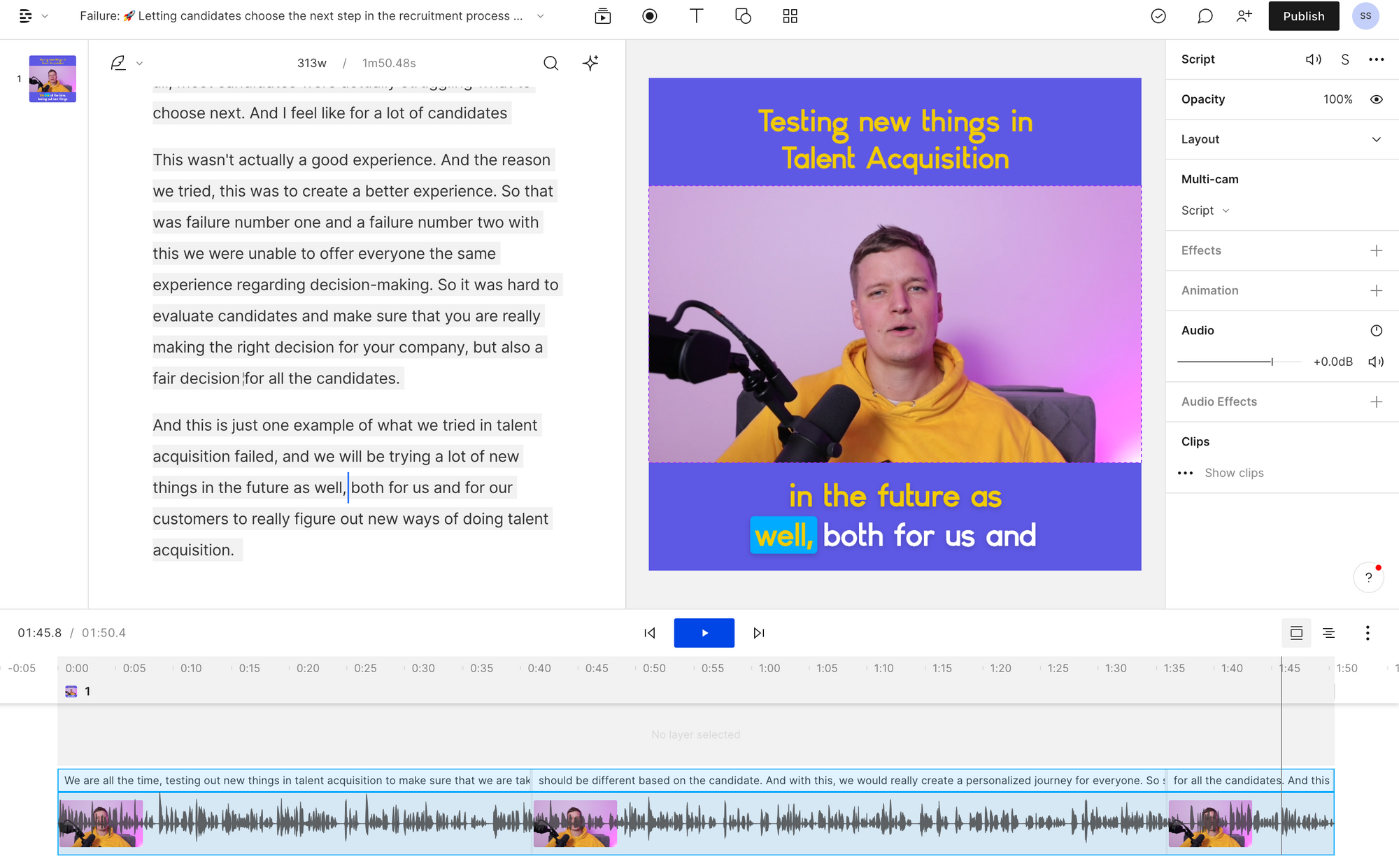 How to publish the videos
For publishing, I use a software called Buffer to ensure I don't need to post them manually each week.
I'm still testing when to publish, but for now, I decided to go with Mondays & Thursdays.
And that looks like this: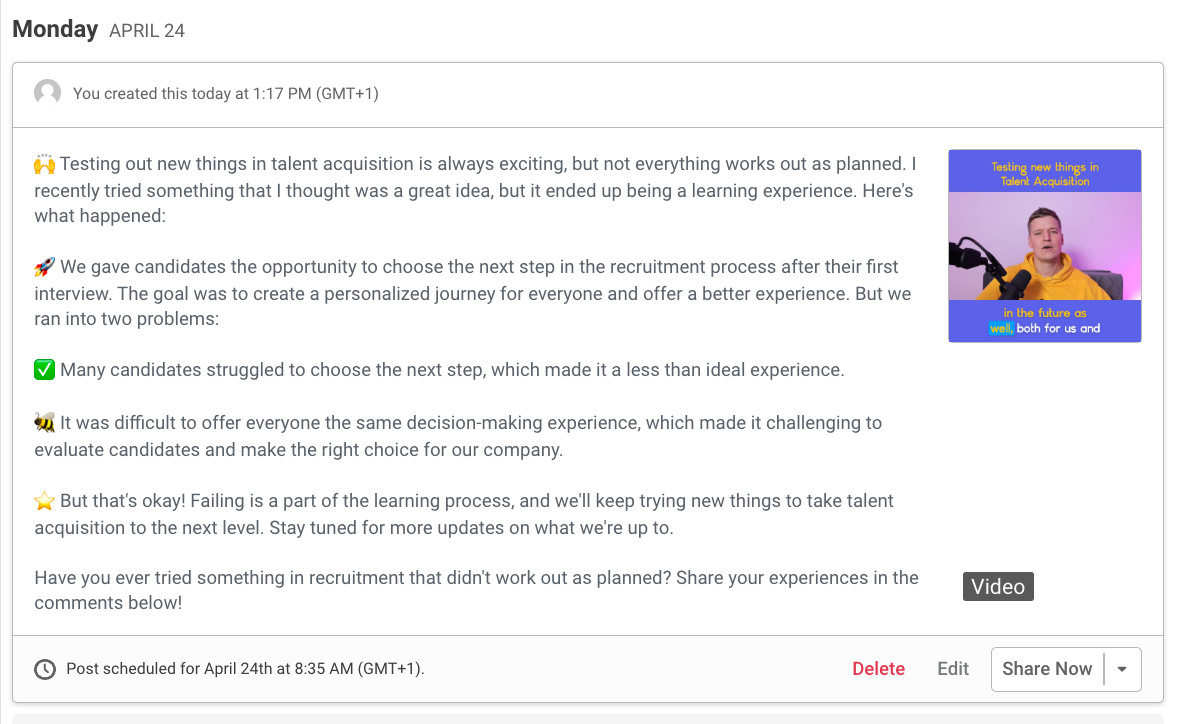 I have also noticed that having a text to go with the video is great. I used to write those manually, but now I have been utilizing Chat GPT.
I think this is a great use case since I am giving the input and asking it to make a post from that. I tested out different commands, and you get the best results when you ask for the right things.
Here's the command I've been using in the videos:
"Here's a transcript of a video that I'm about to post to LinkedIn. Could you write me a text for the post to go with the video? It should include some bullet points. Can you add some emojis to post in great places to make it look good? I'm typically using these emojis on my LinkedIn posts. 🙌 🚀 ✅ 🐝 ⭐️ My writing style is quite casual and relaxed and a bit funny. Try to make it sound like me. Here's the transcript of the video: ADD THE FULL TRANSCRIPT OF THE VIDEO."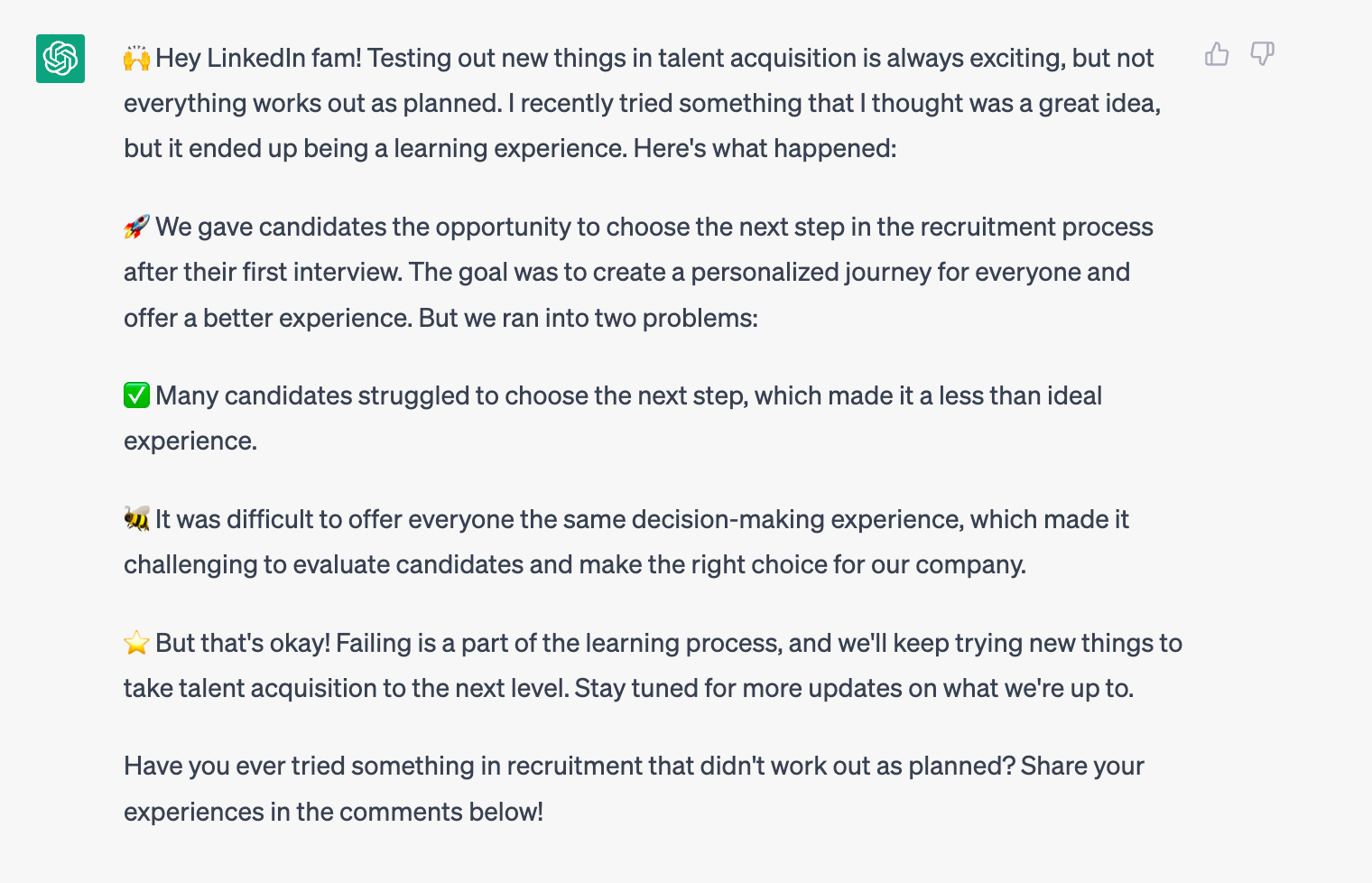 And to be honest, the results are great. I typically make 1 or 2 changes and then add that to the buffer to accompany the video.
I will share the actual results of the videos once I have collected some data on those 🙌
Remember to subscribe to this newsletter if you want to follow my journey of building TalentBee. I will be sharing stories every week on how things are moving forward.