My growth plan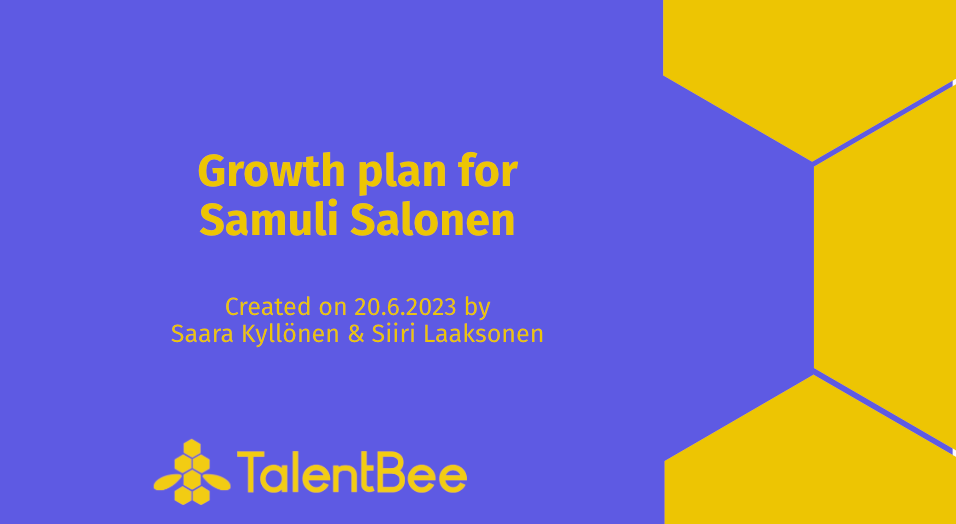 We create a growth plan for everyone at TalentBee every 6 months.
The idea is to go through the following things:
1) Your current role
2) Focus points & prioritizing
3) Feedback from the team
4) Your goals
Typically the Team Lead does this for team members.
It went the other way around this time, and the team did a growth plan for me.
My current role
First, we discussed my current role and how I use my time. It was around this:
35% of the time for sales
20% of the time for marketing
35% of the time running a business (whatever this means 🤣)
10% Ad-hoc help for others
Then I gave a self-evaluation on the first 3 topics & got some feedback. I ranked myself:
3/5 stars on sales
4/5 starts on marketing
2,5 / 5 stars on running a business
I'm pretty self-conscious and hard on the numbers. At the same time, I know that I have succeeded quite well in those, but at the same time, there is so much room for growth.
One success & one learning from all the topics:
Sales success: We have many customers and found a model to sell talent acquisition in the MRR model.
Sales learning: Better understanding of our experts and what kind of support they need in sales.
Marketing success: We have built a well-known brand in the Finnish Recruitment industry in less than a year.
Marketing learning: How can I support the whole team in creating marketing content & building personal brands when it gets busy with customer work?
Running a business success: We have been growing & we are profitable
Running a business learning: Focus even more on people leadership
Focus points & prioritizing
The point of this section is to remind our people about our focus points & how they can be part of them.
Our focus points for this year are:
1) Employee Experience
2) Building a Brand
3) Monthly-Recurring-Revenue
Then I needed to answer two questions for each of these:
1) What am I currently doing toward this focus point?
2) What could I do toward this focus point shortly?
Here are the three things I could do in the near future:
1) Call our employees more often to ask how things are going
2) No new things to brand --> Keep the focus
3) Work on packaging so buying MRR services becomes easier for customers
Feedback from the team
This part was my favorite! Luckily there weren't any big surprises here.
Here's a short recap of things:
Where I have succeeded:
1) Focus on building a great culture
2) Growing TalentBee in a profitable way
3) Great at sales & coaching others in sales
4) Growth mindset & teaching that to others
5) Ability to listen & solve problems together
6) Taking in feedback & acting based on that
7) Great handovers on things
8) Great communication & answers my questions before I have them
9) Being super open about our numbers & business
10) Challenging us in a good way
Where should I focus more?
1) Understanding different people & different working styles - "Everyone is not as fast as you are"
2) Understanding of recruitment & employer branding and the daily life of our experts
3) People leadership skills: humanity, empathy, etc.
4) Identifying different people's strengths
5) You talk a lot about independent working and the ability to handle hard customer situations independently --> Sometimes, this feels like we shouldn't ask for help (Samuli's note: This was super interesting for me because another person said that it feels easy to ask for help and you always get it --> Super interesting to see how differently people see things and this is a big learning for me)
This list is a bit shorter, but the first 4 things are basically from everyone! Without knowing these, it would be hard to focus on them.
I think we have succeeded in building an open culture where people can share valuable feedback.
Goals
Ultimately, we discussed goals and time run-up because I needed to hop on a call with our customers.
And of course, like everyone else, I was surprised in the end! For me, it was a massage booked for next week, so I will be enjoying that following Monday.

Ps. Do you want to see the whole growth plan in detail? Send me a message, and happy to share it with you (It's full of our notes in mixed English & Finnish)