My 1to1 with our first employee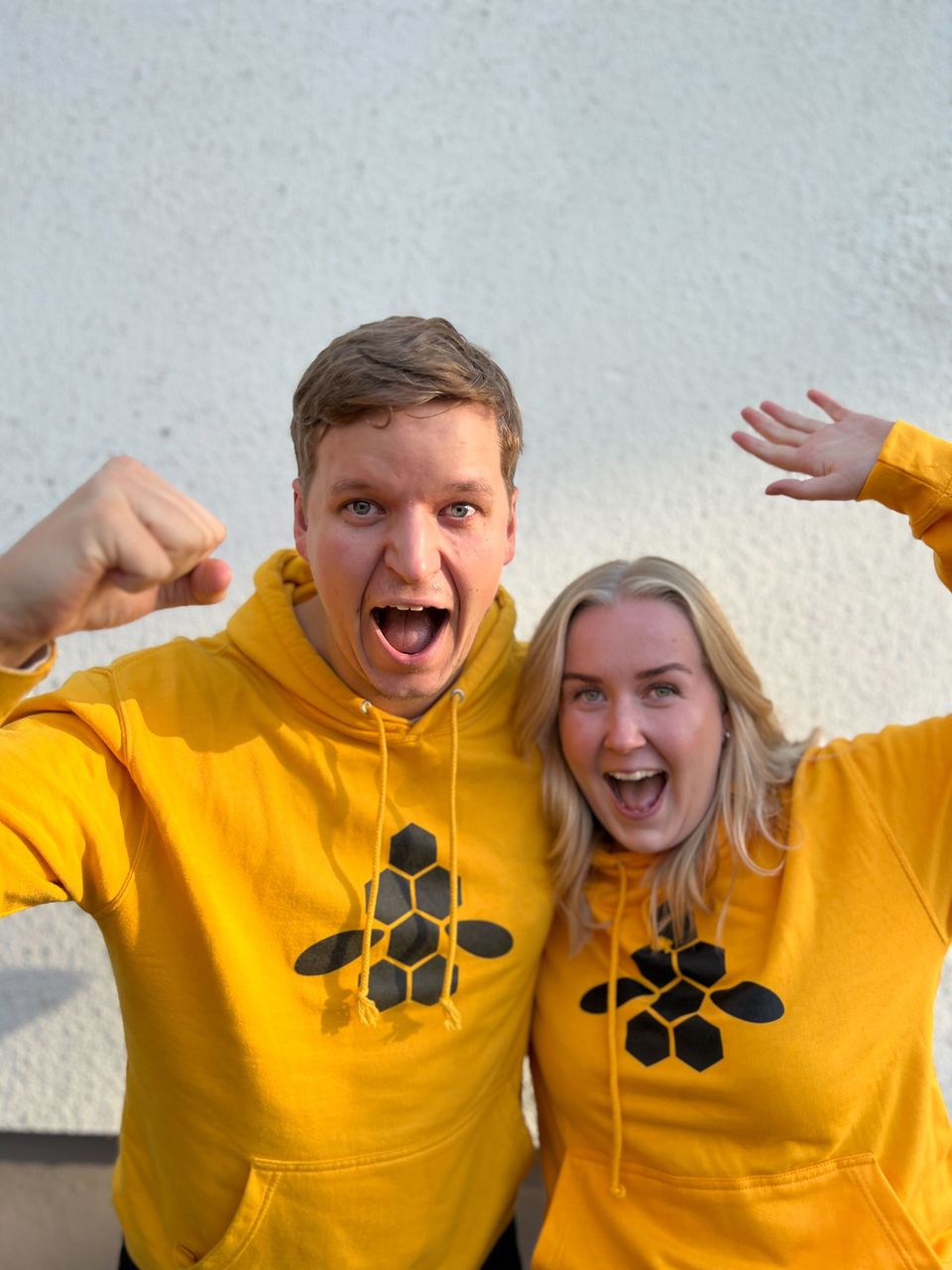 I just had a chat with your first employee Nea.
We chat weekly, but I wanted to have a proper discussion with her about what it's like to work at TalentBee. Our Co-Founder Siiri is officially Nea's supervisor, so I wanted to have a bit deeper discussion with Nea about the following:
What's good & what doesn't work.
What she would do if she were our CEO.
What sucks.
And much more.
After the discussion, I asked Nea if I could share my notes. She said yes so here they are. I think some interesting learnings about being the first employee at TalentBee & what kind of workplace we are in, and much more.
Question 1: What has gone well in your first months at TalentBee?
"I'm a little bit surprised at how fast things are moving and how much I've become a part of TalentBee and participating, e.g., in sales cases. "
"Customer projects have started extremely well. Good customers are the ones where customers feel like they are one team together. Not like we are some external consultants that need to know everything."
"I've got a lot of support from Siiri" (one of our founders & Nea's supervisor)
"It was weird to work together with Siiri in a new environment since we used to work together in different environments before. I feel like we have become a team and identified each other's strengths & weaknesses.
Question 2: What have been your biggest learnings so far?
"My business understanding has grown rapidly during the first few months. I have worked closely with business functions earlier, but now I have understood how different pieces go together since we talk about these things openly at TalentBee. This has helped me to do my work as an Employer Branding Strategist for customers even better."
"I've learned so much about sales."
"When you are working in a start-up, you learn how to take responsibility for things, and you need to take responsibility for things outside of your main role as well. You have the permit to do everything and take as much responsibility as you can handle."
"I used to be a bit unsure about my professional skills in the past. In the last month, I've got rid of this and built a lot of trust in myself."
"I have learned a lot about Employer Branding from Siiri and how it connects with customers' business"
"Producing content is easy & quite basic. Now I have had a chance to focus on my strategic thinking in employer branding."
"I thought I understood recruitment, but I didn't. I get them on completely different levels right now, and it helps me to do better employer branding since I understand the big picture."
Question 3: Do you know what is expected from you?
"So far, the expectations have been clear for the most part."
"In the beginning, I struggled a bit to understand the roles & who's responsible for what, e.g., when it comes down to customers."
"I have a bit of uncertainty about what will happen to my role once our team keeps growing."
"If I don't understand something, I can always ask."
Question 4: What would you do differently in onboarding the next person we hire?
"I would focus more on bringing people into current customers. It would be beneficial to know more about the customer & what is expected from the person joining. I felt like I didn't get all the needed information, and it was quite a kick-start with some customers."
"Even though there were some challenges with the onboarding, it's been nice to edit it while we go and be a test person for that. It's nice I can develop the process as I wish."
"Working equipment could be better. I got my phone & laptop on the first day but setting up the home office took a few weeks. We could already do this before the person starts to create an awesome employee experience."
Question 5: Do you know where you need to be in 6 months to get a salary raise?
"I know our salaries are based on our salary table & I have access there. I know which step I am on right now."
"I assume we go this one through every 6 months, but I'm not completely sure about this."
"I think we should talk about this more often to see if I'm going in the right direction with this."
Question 6: Where has Siiri succeeded well?
"I never feel like being alone with things & I feel that I can ask for help whenever I need it."
"Siiri is an extreme expert on Employer Branding."
"In the beginning, we had some challenges in our mutual communications, but we have already become much better at that!"
Question 7: Where could Siiri do better?
"In the beginning, some things came quite given to me regarding Employer Branding. Like do this or do that, and sometimes I didn't understand why we were doing it. But I understood where it came from since she had worked independently for quite some time."
"I get help when I know what to ask. Sometimes I don't know what to ask. In this kind of situation, a coaching approach & actually asking questions from me instead would be a great tool."
"We both have a lot of things to unlearn from our previous jobs. We both need to focus even more on this."
Question 8: Where have I succeeded as CEO of TalentBee?
"You keep all the strings in your hands & support each and everyone."
"If you ask for help with something, you always share what you need & why you need it. It makes helping you, e.g., with sales cases, very easy."
"You are the one making sure we have focus. If something is irrelevant, you say it and remind us to focus & go in the right direction."
"I appreciate that you always have time for my little things and sparring with me."
Question 9: Where should I focus more as a CEO?
"I don't know exactly what I need from you or can wait for you, and this is something we should think about for the future. What can an employee expect from the CEO?"
"You should focus more on communications around sales cases. If you need some support, I can help the best way if I know enough about the case."
"Focus more on overall communications. What we need, when we need & who, we need it from. What's the big business situation?"
Question 10: What would you change if you were the CEO of TalentBee?
"More salaries for everyone. Just kidding."
"I would order us different color hoodies. Something with more street credit."
"One of the reasons I chose TalentBee was the clear focus. It was easy to understand what you do. I would really continue to focus on this as we continue to grow. So not something I would change but make sure we focus."
Question 11: What sucks (In Finnish: Mikä vituttaa?)
"To be honest, nothing that much."
"It would be nice to have an office where I could go to work. Being home is nice but sucks sometimes. It has been great to visit Siiri's home office every now & then."
"Maybe some co-working space would be nice at some point so I don't need to work only from home."
"Giving feedback has been challenging if we don't have a clear way of doing it. Slack messages are easy to misunderstand. How do we ensure misunderstandings don't happen as we continue to grow?"
"When participating in our recruitment process when looking for new colleagues, I didn't know what was expected from me. Therefore I felt like letting some candidates down, and that sucks. We could add that to our onboarding, so everyone knows what is expected in our recruitment discussions with potential future colleagues."
And that's it for today. If you want to continue following building TalentBee, subscribe if you haven't already.
-Samuli, CEO & Co-Founder of TalentBee, where we are building Talent Pipelines for SaaS companies