How to work remotely from Spain - My learnings from 4 months of remote work while running TalentBee.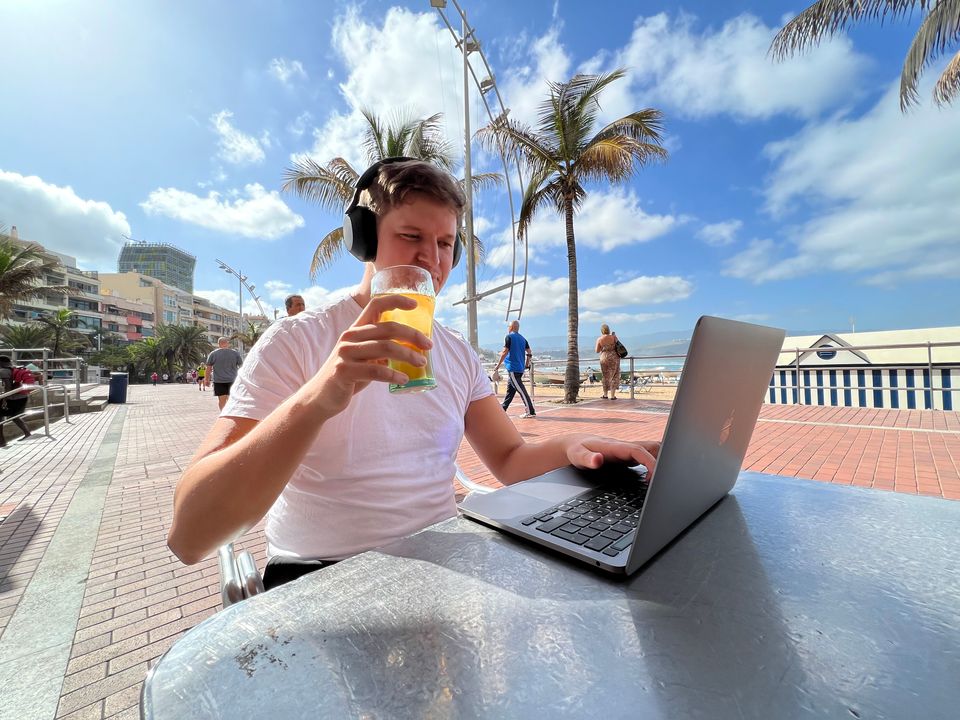 Last year when I was still working as a Head of Sales, I suggested to my employer that I could work remotely for the winter from Mauritius. They said yes.

I loved the winter there, so it was an easy decision for us to go somewhere warm this winter as well.

We chose Las Palmas in Gran Canary. I will go through the learnings from the trip in this article.

Choosing the right place for you
I recommend writing down the must-have things for your remote trip when choosing the place - choosing comes quite easy when you don't have too many options. Here's our list of must-have things we went through:

Good internet connection (kind of no-brainer when you need to work online)
European Union - for GDPR stuff mainly + other things are also easier.
Climate - I enjoy warm weather, and the best for me personally is around 20 to 25 degrees.
Preferably a place with lower living expenses than Finland
You can get a working visa (Since we are EU citizen you don't even need it)

Based on these our options were quite limited. Mainland Spain & Greece were interesting options, but they are a bit cold in winter, so the Canary Islands were our choice.

There are multiple islands and cities to choose from, but we chose Las Palmas mainly because it's one of the biggest cities with nice beaches as well—a great combination of holiday vibes & enough things to do.

Finding a place to live
This depends a lot on where you are going, but, e.g., in Las Palmas, there are a lot of apartments for short-term rentals with full furnishing. The same goes here. Write down first what kind of place you want, e.g.:

Fibre connection internet
One-bedroom
Some working space
Great location (I recommend Las Canteras beach in Las Palmas)

In our case, we kind of fucked up with the workspace part, and there were some bad work ergonomics. I was also missing a balcony, and that's something on our must-have list for the next winter. You can find places from multiple sources. E.g., in our case, we checked out the:

Different Facebook groups like accommodation Gran Canary
Airbnb
Idealist (a local apartment marketplace)

We actually had one place secured for us, but around 2 weeks before we went the owner said that his continuing the rental agreement with the current tenant. Luckily we found a new place through a Facebook group.

It's good to note that there are a lot of scams going on with apartments where you need to pay full rent before arrival, and when you get there - There is no apartment. So be careful with this.

Working with different timezone - How to plan your days?

In my case, the time difference between Finland & Canary Islands is 2 hours.
Basically, this means that a morning 9 am meeting in Finland was a 7 am meeting in Las Palmas.

There were some 6 am Monday meetings that were quite hard. Luckily I don't hate early mornings (like my girlfriend & Co-founder Saara).

On most days I worked from around 7 am to 2 pm.
Sometimes I took a break to play Padel during the days or had a slower morning.

In those days, the working times might be something like this:
9:00 - 12:00 work
12:00 - 14:00 Padel
14:00 - 18:00 work

Building a company & culture at TalentBee while working remotely
Some people say that you can't run a company remotely and build the culture you want.

I believe you can. It, of course, demands a lot from you & your processes.
For the most part, work is quite similar remotely.

It's just super important to make time for some casual chats. For us, it meant, e.g., having a meeting every Monday to catch up on what everyone is doing during the week & have a remote lunch together on Thursdays.

I believe that it makes sense to see face-to-face with your team and that's actually one of the first things I have on my calendar when going back to Finland. We are going to Löyly to enjoy some food, sauna & ice-swimming (I have this plan to get everyone to pitch TalentBee's services while dipping into ice-cold water. Let's see if I succeed in this.)

Some practicalities
There are, of course, some practicalities when doing something like this. Here's a list of things I would recommend going through in more detail. These differ a lot based on country, where you are from, how long you will stay, and so forth.
Your social security when moving to new country
Taxation
Healthcare
Insurances
Are there some bad things about working remotely in the sunshine during the winter?
Not that many, to be honest. At least for me, the benefits of this are way greater. But there are a few things worth mentioning:
The internet might be a bit slower than what you are used to. Luckily Las Palmas has one of the fastest Internets in the EU.
Missing my home office - I have a proper office set-up with all the widgets you can imagine. I got something with me to Las Palmas, but e.g., working from Laptop vs. a 49-inch screen is a bit different.
Friends & Family - Building a social circle in a new country always takes time.

Here are my top things about our remote working trip to Las Palmas
I started to play Padel - 102 matches in total during four months - You become quite good when you dedicate yourself to something. Let me know if you have played the game and want to play in Finland (Tampere or Helsinki mainly!)
Learning a new language - I'm still at a very basic level in Spanish, but on our last night, I was able to order this in a restaurant: "Pari mi, crepes con Nutella i hellado de vanilla."
Sunshine & the warm climate - It gives me another level of energy
Great food - Both in restaurants & great offering of different meats, fish etc on grocery stores

5/5 would recommend you work remotely and Las Palmas is a great option for that. Let me know if you have any questions about the place. Happy to help.